SPARK App League® Opens Registration & Announces Collaboration with the Smithsonian's Lemelson Center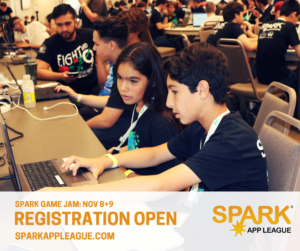 Gilbert, Ariz. – Are you an Arizona junior high or high school teacher looking for coding opportunities for your students? Are you a student who knows how to code or wants to learn? Registration for SPARK Game Jam, a coding competition for Arizona junior high and high school students, hosted by Gilbert, Arizona, in partnership with Arizona State University's Ira A. Fulton Schools of Engineering, is now open.
This year, SPARK App League® is thrilled to announce a collaboration with the Smithsonian, specifically its Lemelson Center, that will focus on themes of invention and innovation for both the fall and spring events.
"We couldn't be more thrilled to welcome the Smithsonian's Lemelson Center as a partner for SPARK App League® events this year," said Gilbert Mayor Jenn Daniels. "The Lemelson Center is focused on the study of invention and innovation and together we will be able to engage students in the coding and invention of games and applications like never before."
"Encouraging students to learn or refine their coding skills is an initiative we are excited to support in collaboration with SPARK App League®," said Arthur Daemmrich, director of the Lemelson Center. "The impact of coding reaches many aspects of our world today, and the SPARK Game Jam competition will offer the opportunity to teach and explore both its creative and inventive applications."
The two-day competition, Wednesday, November 8th and Thursday, November 9th, from 8 a.m. to 3:00 p.m. at Arizona State University's Polytechnic Campus, will teach students of all experience levels the importance and power of coding by working in teams to develop a game using Scratch from MIT. All student games will be entered to win prizes based on their innovation, design and code implementation. Prior to the event, training will be available for participating teachers to help them guide their students through the two-day competition.
Learn more about SPARK App League® and register for SPARK Game Jam here.
About SPARK Game Jam:
Students Participate in App Resources and Knowledge (SPARK) Game Jam is a one-of-a-kind coding competition for high school and junior high students hosted by SPARK App League®. This nonprofit, 501(c)(3) program created by Gilbert, Arizona, is hosted in partnership with Arizona State University's Ira A. Fulton Schools of Engineering. Learn more about SPARK App League® at www.sparkappleague.com. Follow us on Twitter, @SPARKAppLeague, Instagram, @sparkappleague, and Snapchat, sparkappleague.
About the Lemelson Center for the Study of Invention and Innovation:
The Lemelson Center engages, educates and empowers the public to participate in technological, economic and social change. The center undertakes historical research, develops educational initiatives, creates exhibitions, and hosts public programming to advance new perspectives on invention and innovation and to foster interactions between the public and inventors. The Lemelson Hall of Invention and Innovation, featuring Draper Spark!Lab, "Places of Invention" and "Inventive Minds," is a signature part of the National Museum of American History's 45,000-square-foot space centered on the theme of innovation. For more information, visit http://invention.si.edu.